iHerb Beauty Favorite: Physicians Formula Butter Bronzer
DISCLAIMER
This blog has not been approved by your local health department and is not intended to provide diagnosis, treatment, or medical advice. Read More

This blog has not been approved by your local health department and is not intended to provide diagnosis, treatment, or medical advice. The content provided on this blog is for informational purposes only. Please consult with a physician or other healthcare professional regarding any medical or health-related diagnosis or treatment options. Information on this blog should not be considered as a substitute for advice from a healthcare professional. The claims made about specific products throughout this blog are not approved to diagnose, treat, cure, or prevent disease.
In this article: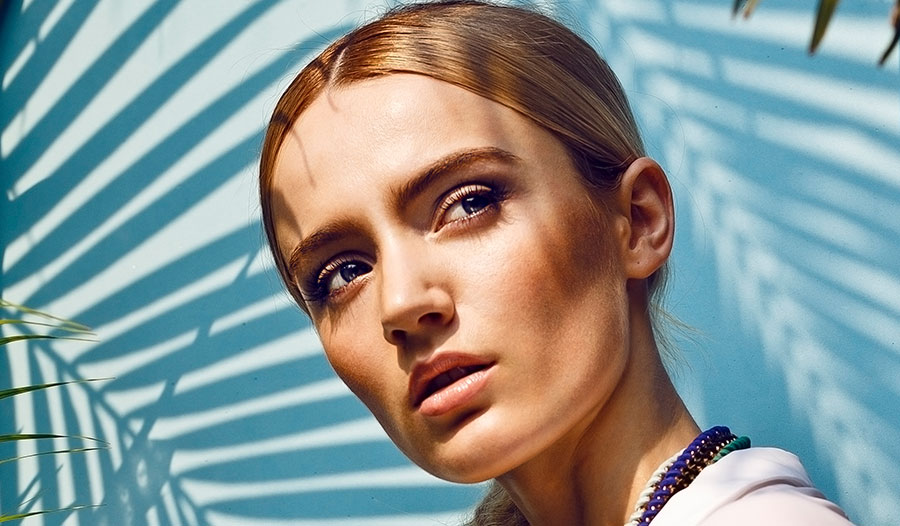 There is nothing better than a sun-kissed glow, am I right? Well, except for the risks of harmful UV rays causing premature aging and irreversible damage when our skin is unprotected in the sun.
Instead of waiting for skin to get wrinkled and spotted from sun marks, melasma, or hyperpigmentation, people are starting to take action by preventing problems from occurring, rather than spending a ton of time, energy, and money fixing them later on. Now more than ever, people are stocking up on lotions and potions, their favorite "less is more" cosmetic products, and more importantly covering their faces, chest, and necks to avoid the sun by using SPF, hats, gloves, visors, and umbrellas on the beach to avoid aging skin. And people also want to preserve their youthful glow for as long as they possibly can, and as a result people younger and younger are spending more on affordable, preventative products.
My Journey to Embracing Bronzer
I remember vividly on my last trip to Greece, my friend remarked (after hours of us laying on the beach), that he never noticed until right then that I had a birthmark on my forehead. Birthmark? I ran to the bathroom so quickly and looked in the mirror to find this huge, brown hyperpigmentation mark on my forehead. I noticed that little brown marks and freckles started to appear on my face and became very noticeable. After a trip to the dermatologist once I got back to the states, I learned that melasma and hyperpigmentation is the darkening of the skin which is mostly caused by too much sun exposure and sun damage. Little did I know that moment would kickstart a new skincare journey of learning about preventative skincare and learning how to create and perfect a faux summer glow using my favorite cosmetic products.
Let's be honest: sun-kissed skin and looking lit-from-within is something we all strive for. The good news is that you can still achieve it and, more importantly, achieve it without baking in the sun for hours in Greece. And you can do it with very minimal effort, at any time of year, whether it is spring, fall, winter, or summer—all with the proper bronzer.
Healthy, glowing, and bronzed skin is what most beauty lovers would like to achieve. Bronzer has an easy application and can make you look and feel like you just arrived back from a tropical vacation spent in the sun. A good bronzer can bring joy by sparking some natural warmth to your skin any time of the year. It's a perfect alternative to baking your skin in the sun and helps achieve a beautiful sun-kissed glow without the risk of damaging your skin. So, if your skin is looking a little lackluster because your time in the sun has been limited, a healthy glow is no longer out of reach.
My Favorite Bronzer: Physicians Formula Butter Bronzer
Let me introduce you to my favorite bronzer, the Butter Bronzer by Physicians Formula. It comes in Light Bronzer, Bronzer (the shade I use), Sunkissed Bronzer, and Deep Bronzer.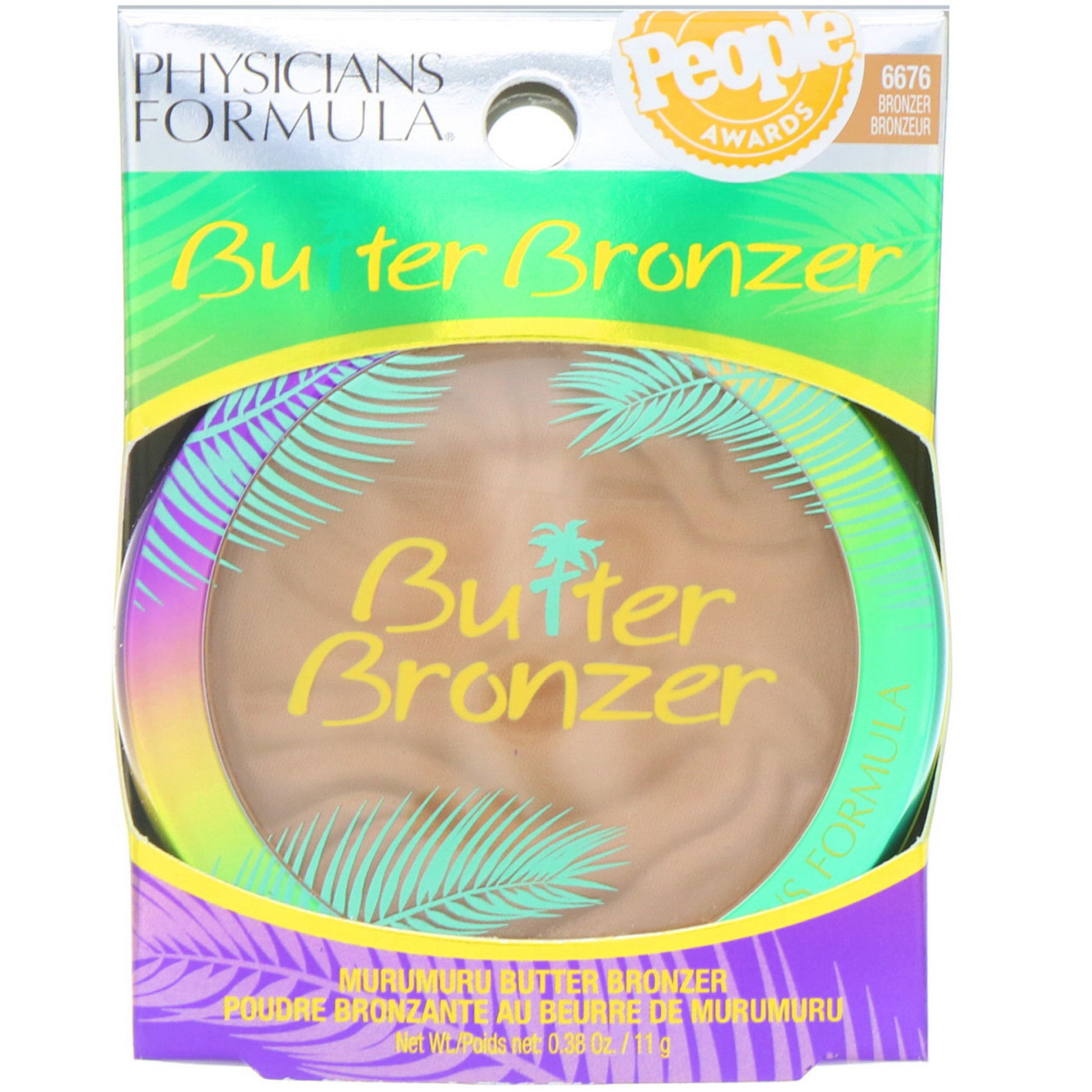 This essential bronzer combines tones of tan to ensure your bronzy glow is as natural as can be. This butter bronzer has a nice bouncy texture. It feels super, well, buttery, with a good mix of powder and a hit of cream. It's infused with murumuru butter, cupuacu butter, and tucuma butter all from the Amazon in Brazil to help nourish the skin. It's packed with essential fatty acids and vitamins that soften, condition, and moisturize skin, leaving it silky soft. And if you like coconuts, this bronzer comes complete with a soft hint of tropical scent to transport you right to Brazil or St. Barts. Blending it onto the forehead, cheekbones, jawline, and sides of the nose will give off a soft healthy skin glow.
Physicians Formula Butter Bronzer has a real radiant finish that contains an easy formula to blend out smoothly. The color never looks muddy or too heavy and it's super easy to build, lasts all day, and adheres to the skin smoothly. Much like foundation and concealer, you want to find the right shade for your skin tone. What I love most about this product is that the color looks radiant in natural light, it's not orange, gray, or glittery which can lead to skin looking unnaturally tan or washed out and its color ensures an all-over warmth.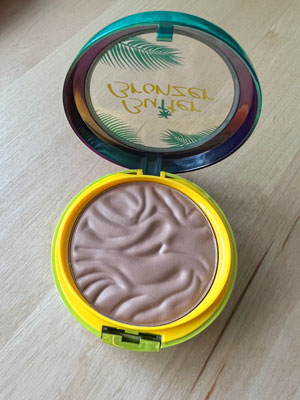 I love a beauty bargain, but this bronzer stands up to some luxe competitors. Trust me when I say that this product feels much more expensive than it actually is. Priced below $15, this bronzer is an absolute steal. Not only does it save your skin from premature aging and sun damage when used instead of tanning but it appears so natural on the skin. The overall quality of the pigment is nothing short of luxurious and has superior blending qualities.
How to Apply Butter Bronzer for a Healthy Glow
To achieve an ultra sun-kissed glow, you can apply your butter bronzer with a very light-handed, sheer dusting all over for a base to build on. Next, you can apply a little more product to the high planes of your cheekbones, temples, nose bridge, jawline, not forgetting our shoulders and collarbones. You want to gently tap off any excess product on your makeup brush and then gently hit all the spots the sun would naturally hit your skin. Don't forget to sweep on a golden, peachy blush like Physicians Formula Murumuru Butter Blush in Beachy Peach to the apples of the cheeks and gently on the nose for a radiant and fresh, straight-out-of-the-sun look. And don't forget to apply the bronzer onto your neck, which is a mistake most people make. Our neck gets the least amount of sun and we want to make sure we have an even radiant glow on our face, necks, and chest.
To achieve a more contoured look using bronzer, you can use your bronzer to sculpt and enhance your bone structure. When sculpting, bronzer can result in a slimming look that will give the appearance of a lifted effect. You want to start back by the ears in the hollows of your cheekbones and sweep the entire perimeter of your face. Make sure to blend in your products well to avoid any harsh streaks and angles along your face.
One last tip is to start light, start slow, and apply your makeup in good, natural lighting near a window to avoid causing your look to become too heavy. I've said it once and I'll say it again, praise be to Physicians Formula Butter Bronzer—which also happens to be dermatologist-tested, oil-free, cruelty-free, clinically tested, vegan, and hypoallergenic—for making all of our radiant, lit-from-within glowy skin dreams come true.