Natural Approaches to PCOS
DISCLAIMER
This blog does not intend to provide diagnosis... Read More

This blog does not intend to provide diagnosis, treatment, or medical advice. Read more. The content provided on this blog is for informational purposes only. Please consult with a physician or other healthcare professional regarding any medical or health-related diagnosis or treatment options. Information on this blog should not be considered as a substitute for advice from a healthcare professional. The claims made about specific products throughout this blog are not approved to diagnose, treat, cure, or prevent disease.
In this article: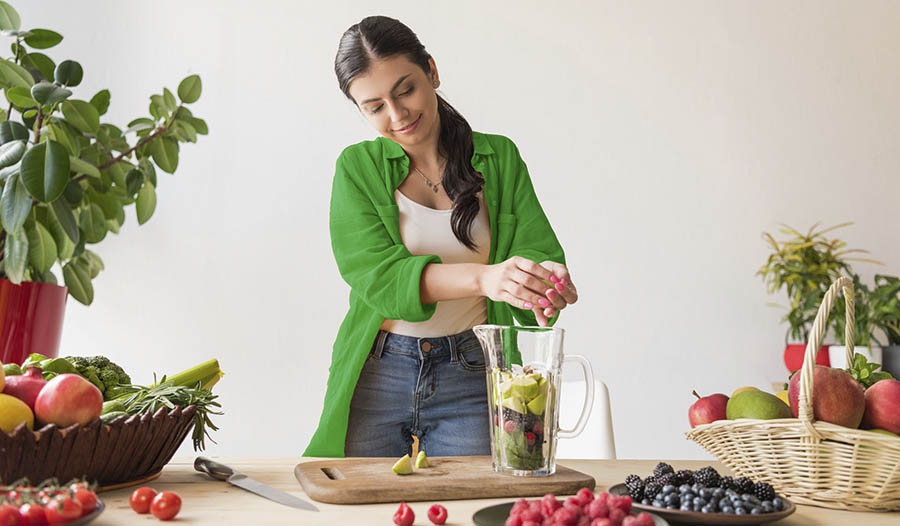 Polycystic ovarian syndrome, commonly known as PCOS, is a condition that's believed to affect up to 10 percent of women between the ages of 16 to 45 worldwide. Women who have PCOS frequently have higher than usual insulin blood levels and carry excess weight, which contributes to many hormonal changes in the body, resulting in excess hair growth, acne, menstrual irregularities, and fertility challenges.
Causes
It appears that there are many causes of PCOS. First, a diet high in processed foods, sugar, high- fructose corn syrup, colas, and simple carbohydrates are known to increase one's body weight. This can lead to insulin resistance and other changes to one's hormones and endocrine system in a way that contributes to PCOS. Pre-diabetes and elevated blood sugar are also believed to contribute to PCOS.
Another contributor is hypothyroidism, or underactive thyroid, a condition which can affect up to 10 percent of women. It has been suggested that some women with an underactive thyroid are at increased risk for developing polycystic ovarian syndrome. Environmental toxins may also contribute to hormonal abnormalities. Studies have linked Bisphenol A or BPA, a chemical found in many plastics, to the development of PCOS in women.
Symptoms of Polycystic Ovarian Syndrome
Numerous cyst on ovaries, as seen on ultrasound

Excess hair growth, frequently on face and chest

Menstrual irregularities

Fertility difficulties

Acne

Obesity

Fatty liver

Irritable Bowel Syndrome (IBS)

Male pattern baldness

Insulin Resistance

Pre-diabetes

Increased risk for autoimmune thyroid disease

Blood tests show elevated testosterone, LH to FSH ratio
Diagnosis
The diagnosis of PCOS can occur clinically by a doctor, based on the presence or absence of the above symptoms. Once the diagnosis is suspected by a healthcare provider, many will conduct additional laboratory or ultrasound testing to further confirm and characterize the condition.
Lifestyle Changes
Lifestyle changes can help restore balance to a woman trying to improve her hormone and metabolic profile. These include the following:
Weight loss—achieving one's optimal weight can help improve hormone balance

Daily exercise, at least 30 minutes of moderate exercise, five days per week

Diet generous in vegetables and fruit servings

Optimize gut health with diet and

probiotics

Many consider a

Paleo diet

,

Keto diet

or Mediterranean to help reach optimize weight
Medications
Doctors will frequently prescribe medications to help lessen the impact of PCOS and to help improve the metabolic and hormonal profile of women who are diagnosed with the condition. Some of the most commonly prescribed treatments include the following:
Metformin – Frequently used for diabetes, this medication helps make insulin produced in the body more efficient. Since most women with polycystic ovarian syndrome have insulin resistance, this medication frequently may help restore a woman's menstrual cycle back to normal.
Clomiphene – This medication helps women with PCOS to ovulate and achieve pregnancy.
Oral Contraceptives – Frequently used to help regulate menstruation and balance out one's hormones. However, birth control pills do little to reverse PCOS.
Natural Supplements to Help PCOS
In addition to diet and lifestyle changes that can help improve symptoms and help restore woman's metabolic and hormone profile closer to normal, many women consider supplements to help optimize their health. Many take prescription medications in addition to their supplements, which include the following:
Vitamin D
Almost four in five women worldwide are deficient in vitamin D, frequently known as "the sunshine vitamin". Low vitamin D levels are associated with many diseases.
As mentioned above, fatty liver is a common symptom in women with PCOS. According to a 2017 study, vitamin D helped reduce fatty liver markers in obese women with PCOS. A separate 2016 study in the Journal Of Clinical Endocrinology and Metabolism showed that women with PCOS were 44 percent less likely to become pregnant if their vitamin D level was less than 30 ng/ml (75 nmol/L) compared to those with higher vitamin D blood levels.
Lastly, since women with PCOS are at increased risk of developing autoimmune thyroid inflammation, prevention is crucial. A 2016 study showed that women with PCOS are at increased risk of developing an autoimmune thyroid disease when they were deficient in vitamin D.
Suggested dose: 1,000-5,000 IU daily
Chromium
Chromium is an important element required for numerous enzyme reactions, including an enzyme called the glucose tolerance factor, or GTF. This enzyme helps optimize insulin function and glucose control.
A 2017 meta-analysis study in the Journal of Trace Elements in Medicine and Biology concluded the supplementation with chromium picolinate had beneficial effects in reducing body mass index (BMI), fasting insulin levels, and total testosterone levels in women with PCOS. Elevated insulin levels are associated with fat storage and weight gain.
Likewise, a 2015 double-blind, placebo-controlled trial in the Annals of Nutrition and Metabolism showed that chromium supplementation lowered insulin levels in women with polycystic ovary syndrome. Those who took the chromium also saw improvements in their cholesterol profile. However, a 2018 study did not find significant improvement in PCOS symptoms in women who took chromium. More research is needed.
Suggested dose: 200 mg once or twice per day
N-Acetyl Cysteine (NAC)
NAC is an important nutrient which helps the body to eliminate toxins. Doctors give this supplement to patients hospitalized in response to acetaminophen/paracetamol (Tylenol) overdose.
A 2015 meta-analysis study published in Obstetrics and Gynecology International showed that women with PCOS given NAC were more likely to ovulate, become pregnant, and deliver a baby when compared to women who were given a placebo pill. There were no negative effects in the women who took the NAC. A separate 2015 study of women with PCOS compared NAC taken at a dose of 600 mg three times per day and the prescription drug metformin at a dose of 500 mg three times per day. The researchers concluded that NAC could lower fasting blood sugar and cholesterol better than the pharmaceutical drug, metformin.
L-Carnitine
L-carnitine is an important amino acid found in high concentration in both muscles and the brain. It also plays an important role in the production of energy and metabolism. A 2015 randomized, double-blind, placebo-controlled study of 60 women with PCOS was conducted. All were considered overweight. Half the women were given 250 mg of L-carnitine, the other thirty women were given a placebo pill. Both groups were followed for 12 weeks, and at the end of the period, those who took the carnitine saw a reduction in weight and waist circumference and had lower blood sugar.
A 2014 study in the European Journal of Obstetrics and Gynecology and Reproductive Biology demonstrated that women with PCOS who were resistant to clomiphene, (meaning this prescription drug could not help them become pregnant) were more likely to become pregnant when 3,000 mg of L-carnitine was added to their daily drug regimen. This is an excellent example of using both nutritional supplements and prescription drugs to achieve the desired health goal.
Suggested dose: 250 mg to 3,000 mg per day
Co-Enzyme Q10
This popular supplement plays an important role in energy metabolism. A 2017 double-blind, placebo-controlled study in Clinical Endocrinology evaluated the use of 100 mg of coenzyme Q10 versus placebo in women with PCOS. The subjects underwent blood tests, took the supplement or placebo for 12 weeks and then underwent repeat blood testing. The results showed that those who took the co-enzyme Q10 had a reduction in blood sugar and insulin levels, which are both normally high in those with PCOS. A 2015 study also showed that clomiphene-resistant patients taking co-enzyme Q10 were more likely to ovulate and become pregnant.
Suggested dose: 100 to 300 mg per day
Omega 3- Fatty Acids
Omega-3 essential fatty acids consist primarily of, particularly, eicosapentaenoic acid (EPA) and docosahexaenoic acid (DHA). These important nutrients can be found in a variety of food sources, which include fish (mackerel, cod, and salmon are among the richest), walnuts, chia seeds, flax seeds, hemp seeds, avocado, and natto.
Fatty liver is common in women with PCOS. A 2009 study showed that women with PCOS who had a fatty liver could reduce the amount of fat in their liver when omega-3 fatty acids were consumed. The researchers also noted an improvement in blood pressure and triglycerides. A 2011 study also showed that increased intake of omega-3 fatty acids could help reduce bioavailable testosterone in women with PCOS. These levels are normally elevated in those in those with PCOS. A 2018 study also showed that flaxseed could help reduce insulin levels in women with PCOS in addition to reducing insulin resistance.
Suggested dose: 1,000 mg to 2,000 mg once or twice per day.
Selenium
Selenium is a trace mineral, meaning that is it required in small amounts by humans. According to a 2013 study of women in Turkey, those with PCOS had lower selenium levels in their blood when compared to women without PCOS. It is believed that this mineral deficiency plays a role in the cause of PCOS and the regulation of hormone levels. The researchers also found that lower levels of selenium were associated with increased levels of Luteinizing hormone (LH) and testosterone, both abnormalities common in PCOS.
A 2014 randomized, double-blind, placebo-controlled study showed selenium could be helpful in women with PCOS. Specifically, selenium could lower insulin levels and help improve cholesterol profiles, such as lowering triglycerides and LDL (bad) cholesterol.
Suggested dose: 200 mcg daily (can be found as a separate supplement or in most multivitamins)
Summary:
Polycystic Ovarian Syndrome or PCOS is a common condition in women who are of childbearing age. PCOS can result in hormonal abnormalities and irregular periods, which can make it difficult for women to become pregnant and bear children. Diet and lifestyle changes play a crucial role in helping reverse symptoms of PCOS, but when not sufficient, prescription medications and certain supplements may also be considered and used in combination to achieve optimal results.
References:
Eleni Kandaraki, Antonis Chatzigeorgiou, et. al Endocrine Disruptors and Polycystic Ovary Syndrome (PCOS): Elevated Serum Levels of Bisphenol A in Women with PCOS, The Journal of Clinical Endocrinology & Metabolism, Volume 96, Issue 3, 1 March 2011, Pages E480–E484,

Endocrine Abstracts (2017) 50 P323 | DOI: 10.1530/endoabs.50.P323

Lubna Pal, Heping Zhang, Joanne Williams, Nanette F. Santoro, et. al. Vitamin D Status Relates to Reproductive Outcome in Women With Polycystic Ovary Syndrome: Secondary Analysis of a Multicenter Randomized Controlled Trial, The Journal of Clinical Endocrinology & Metabolism, Volume 101, Issue 8, 1 August 2016, Pages 3027–3035, https://doi.org/10.1210/jc.2015-4352

Siavash Fazelian, Mohamad H. Rouhani, Sahar Saraf Bank, Reza Amani, Chromium supplementation and polycystic ovary syndrome: A systematic review and meta-analysis, Journal of Trace Elements in Medicine and Biology, Volume 42, 2017, Pages 92-96, ISSN 0946-672X, https://doi.org/10.1016/j.jtemb.2017.04.008.

Jamilian M, Asemi Z, Chromium Supplementation and the Effects on Metabolic Status in Women with Polycystic Ovary Syndrome: A Randomized, Double-Blind, Placebo-Controlled Trial. Ann Nutr Metab 2015;67:42-48

Site Accessed September 5th, 2018 https://obgyn.onlinelibrary.wiley.com/doi/abs/10.1111/jog.13462

Divyesh Thakker, Amit Raval, Isha Patel, and Rama Walia, "N-Acetylcysteine for Polycystic Ovary Syndrome: A Systematic Review and Meta-Analysis of Randomized Controlled Clinical Trials," Obstetrics and Gynecology International, vol. 2015, Article ID 817849, 13 pages, 2015. https://doi.org/10.1155/2015/817849.

Forough Javanmanesh, Maryam Kashanian, Maryam Rahimi & Narges Sheikhansari (2016) A comparison between the effects of metformin and N-acetyl cysteine (NAC) on some metabolic and endocrine characteristics of women with polycystic ovary syndrome, Gynecological Endocrinology, 32:4, 285-289, DOI: 10.3109/09513590.2015.1115974

Samimi, M. , Jamilian, M. , Ebrahimi, F. A., Rahimi, M. , Tajbakhsh, B. and Asemi, Z. (2016), Oral carnitine supplementation reduces body weight and insulin resistance in women with polycystic ovary syndrome: a randomized, double‐blind, placebo‐controlled trial. Clin Endocrinol, 84: 851-857. doi:10.1111/cen.13003

Alaa M. Ismail, Ali Hassan Hamed, Srdjan Saso, Hossam H. Thabet, Adding l-carnitine to clomiphene resistant PCOS women improves the quality of ovulation and the pregnancy rate. A randomized clinical trial, European Journal of Obstetrics & Gynecology and Reproductive Biology, Volume 180, 2014, Pages 148-152, https://doi.org/10.1016/j.ejogrb.2014.06.008.

Samimi, M. , Zarezade Mehrizi, M. , Foroozanfard, F. (2017), The effects of coenzyme Q10 supplementation on glucose metabolism and lipid profiles in women with polycystic ovary syndrome: a randomized, double‐blind, placebo‐controlled trial. Clin Endocrinol, 86: 560-566. doi:10.1111/cen.13288

Abdelaziz El Refaeey, Amal Selem, Ahmed Badawy, Combined coenzyme Q10 and clomiphene citrate for ovulation induction in clomiphene-citrate-resistant polycystic ovary syndrome, Reproductive BioMedicine Online, Volume 29, Issue 1, 2014, Pages 119-124, ISSN 1472-6483, https://doi.org/10.1016/j.rbmo.2014.03.011.

The Journal of Clinical Endocrinology & Metabolism, Volume 94, Issue 10, 1 October 2009, Pages 3842–3848, https://doi.org/10.1210/jc.2009-

Niamh Phelan, Annalouise O'Connor. Hormonal and metabolic effects of polyunsaturated fatty acids in young women with polycystic ovary syndrome: results from a cross-sectional analysis and a randomized, placebo-controlled, crossover trial–, The American Journal of Clinical Nutrition, Volume 93, Issue 3, 1 March 2011, Pages 652 662, https://doi.org/10.3945/ajcn.110.005538

Exp Clin Endocrinol Diabetes 2018; 126(04): 222-228

Jamilian, M. , Razavi, M. , Fakhrie Kashan, Z. , Ghandi, Y. , Bagherian, T. and Asemi, Z. (2015), Metabolic response to selenium supplementation in women with polycystic ovary syndrome: a randomized, double‐blind, placebo‐controlled trial. Clin Endocrinol, 82: 885-891. doi:10.1111/cen.12699