Top 12 Must-Have Natural Health Products for 2021
DISCLAIMER
This blog does not intend to provide diagnosis... Read More

This blog does not intend to provide diagnosis, treatment, or medical advice. Read more. The content provided on this blog is for informational purposes only. Please consult with a physician or other healthcare professional regarding any medical or health-related diagnosis or treatment options. Information on this blog should not be considered as a substitute for advice from a healthcare professional. The claims made about specific products throughout this blog are not approved to diagnose, treat, cure, or prevent disease.
In this article: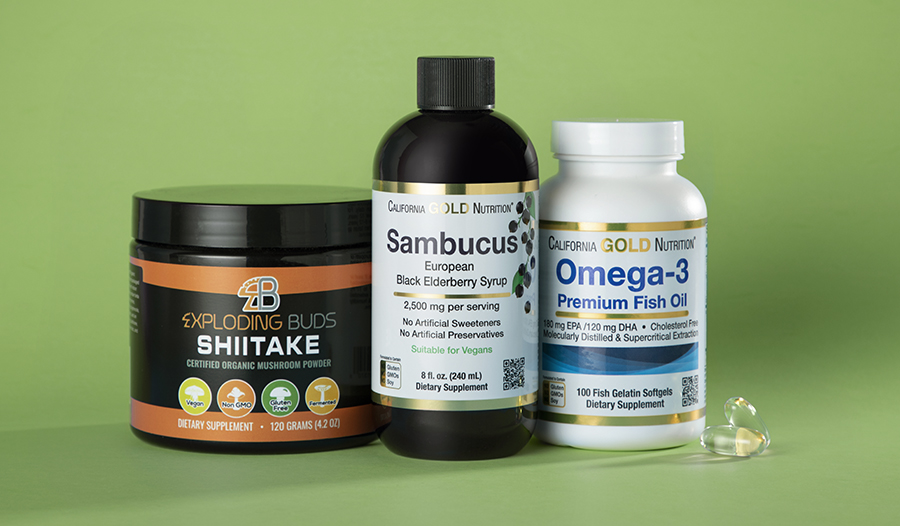 The new year welcomes the opportunity to start anew. Good health is the first step to overall wellness. There are thousands of natural health products to help move you in the right direction, but choosing the best products can be overwhelming.
Not to worry! This list of must-have natural health products curated by a holistic medicine physician takes all the guesswork and stress out of picking the best products for you and your family.
General Health
Overall good health starts with a baseline of sufficient nutrients, good digestion, and essential go-to remedies. These natural health products can help keep you balanced and well throughout the year.
‌‌‌‌1. Multivitamins
A good multi-vitamin is essential to fill in the gaps where you fall short in getting all the needed vitamins and minerals in your daily nutrition. These supplements are great for both men and women to ensure you are getting the minimum required daily nutrients. Multivitamins are designed for those looking for nutritional support with fewer capsules. You can find comprehensive daily supplements where only two capsules are needed each day.
‌‌‌‌2. Omega + CoQ10
This wild-caught high-quality fish oil with CoQ10 offers you heart-healthy antioxidant support. With the added benefit of cellular energy support, this powerful combination helps supply the high energy demands of your body.
‌‌‌‌3. Manuka Honey
Manuka honey is native to New Zealand and is made by bees that pollinate the flowers of the manuka bush. The active ingredient, methylglyoxal, is what sets it apart from other honey and is likely the source of its antibacterial properties. Manuka honey is also known to be antiviral, anti-inflammatory, and a powerful antioxidant. Traditionally, it has been used to help prevent tooth decay and has been shown to help with periodontal disease, gastric ulcers, sore throat, and irritable bowel disease.
Most notably, in 2007, manuka honey was FDA approved for wound healing. Studies have shown that this special honey can increase tissue regeneration and decreases pain in burn patients. Manuka honey is also shown to help heal diabetic foot ulcers.
‌‌‌‌4. Fiber
Having healthy amounts of fiber in your diet is great for regularity and helping to manage the symptoms of irritable bowel syndrome (IBS). Fiber can help to avoid diarrhea, constipation, and abdominal pain associated with IBS.
Whether you have been diagnosed with IBS or not, including soluble fiber in your diet with the prebiotic benefits of some fiber supplements will help to support your digestive health. Most of us can use a little help in this area.
‌‌‌‌5. Hemp Seeds
High in magnesium, phosphorus, potassium, manganese, and iron, hemp seeds help you stay balanced with needed minerals for cellular health and wellness. Add only three tbsp to any salad, smoothie, cereal, or yogurt for a full serving of hemp seeds with all the touted benefits.
‌‌‌‌6. Bone, Cartilage, and Joint Support
Inflammation is the root of most diseases, illnesses, and discomfort. Protecting your body from the wear and tear of everyday life by incorporating supplements specific to bone, cartilage, and joint health will help you to avoid the inconvenience of physical discomfort. Look for supplements with enhanced absorption of curcumin, aiding in digestion and liver detoxification.
Sign of the Times
The following products were selected considering the state of health around the world and our new normal of online work and play. While 2020 presented many challenges for us all, these natural products will help you be prepared and ready for 2021.
‌‌‌‌7. Immune Support
Consider adding an immune support supplement with a proprietary blend of botanical extracts to your regimen. Look for herbs like Eleutherococcus, known for its immune-boosting power, and Larch Arabinogalactan, studied for its immune-enhancing properties, to cover all of your health bases.
Additionally, Maitake mushrooms, popular in Japan, help support the innate and adaptive immune systems. Similarly, astragalus, green tea, and olive leaf are all-natural ways to boost your body's natural immunity.
‌‌‌‌8. Computer Eye Relief
Homeopathic remedies are ideal for tired eyes that have been fixed on your computer screen. We all have more online meetings, family chats, and entertainment streaming through our devices, and our eyes are paying the price.
These all-natural eye support products help to relieve eye strain by stimulating your body's natural ability to ease the feeling of eye fatigue without any harsh vasoconstrictors.
‌‌‌‌9. Shiitake Mushroom Powder
Native to the warm and moist climate of eastern Asia, shiitake mushrooms are known for their curved caps and bare stems. These multi-nutrient fungi naturally contain proteins, digestive enzymes, prebiotics, amino acids, and flavonoids that are beneficial to your overall health.
Shiitake mushrooms are recommended in 2021 specifically for their immune-boosting and cholesterol-lowering properties.
‌‌‌‌10. Ashwagandha Root
Traditionally used to support a healthy stress response, Ashwagandha is an adaptogenic herb that can be a great resource for balance in 2021. Also known as Withania somnifera, Ashwagandha can help create a sense of calm, boost energy levels, and improve concentration.
Other notable benefits include its potential to reduce feelings of anxiety and depression while lowering blood sugar and cortisol levels.
‌‌‌‌11. Sambucus European Black Elderberry
Black elderberry is rich in flavonols and anthocyanins with powerful antioxidants and soothing benefits. Studies also show taking elderberry extract for two days significantly affected discomfort associated with the flu including muscle aches, fever, nasal congestion, and headache. Black elderberry is a known antiviral that can be taken daily for preventive measures or taken at higher dosages if cold and flu symptoms appear.
You can also find a child-friendly version of black elderberry syrup, with added echinacea and astragalus for more immune benefits with a great berry flavor.
‌‌‌‌12. Adult Probiotics
A healthy immune response starts in the gut. Having a quality probiotic to help populate good bacteria is an often-overlooked key component of immune health. Studies show that taking probiotics can help boost the production of certain immune cells like T lymphocytes, and IgA producing cells.
Other studies have found that probiotics lessen the likelihood, duration, and severity of respiratory infections. With added mental health, heart, digestive, and allergy benefits, probiotics are a must-have natural health product for 2021.
You'll be all set and ready to take on 2021 with these 12 must-have natural health products! Use this list to improve your overall health and wellbeing from the inside out.
References:
Niaz K, Maqbool F, Bahadar H, Abdollahi M. Health benefits of Manuka Honey as an essential constituent for tissue regeneration. Curr Drug Metab. 2017;18(10):881-892. doi:10.2174/1389200218666170911152240

Yaghoobi R, Kazerouni A, Kazerouni O. Evidence for clinical use of honey in wound healing as an anti-bacterial, anti-inflammatory anti-oxidant and anti-viral agent: A review. Jundishapur J Nat Pharm Prod. 2013;8(3):100-104. doi:10.17795/jjnpp-9487

Kamaratos AV, Tzirogiannis KN, Iraklianou SA, Panoutsopoulos GI, Kanellos IE, Melidonis AI. Manuka honey-impregnated dressings in the treatment of neuropathic diabetic foot ulcers. Int Wound J. 2014;11(3):259-263. doi:10.1111/j.1742-481X.2012.01082.x

He J, Giusti MM. Anthocyanins: natural colorants with health-promoting properties. Annu Rev Food Sci Technol. 2010;1:163-187. doi:10.1146/annurev.food.080708.100754

Porter RS, Bode RF. A review of the antiviral properties of black elder (Sambucus nigra L.) products. Phytother Res. 2017;31(4):533-554. doi:10.1002/ptr.5782

Tiralongo E, Wee SS, Lea RA. Elderberry supplementation reduces cold duration and symptoms in air-travellers: A randomized, double-blind placebo-controlled clinical trial. Nutrients. 2016;8(4):182. Published 2016 Mar 24. doi:10.3390/nu8040182

Mirjalili MH, Moyano E, Bonfill M, Cusido RM, Palazón J. Steroidal lactones from Withania somnifera, an ancient plant for novel medicine. Molecules. 2009;14(7):2373-2393. Published 2009 Jul 3. doi:10.3390/molecules14072373

Vyas AR, Singh SV. Molecular targets and mechanisms of cancer prevention and treatment by withaferin a, a naturally occurring steroidal lactone. AAPS J. 2014;16(1):1-10. doi:10.1208/s12248-013-9531-1

Day RC, Bradberry SM, Sandilands EA, Thomas SHL, Thompson JP, Vale JA. Toxicity resulting from exposure to oven cleaners as reported to the UK National Poisons Information Service (NPIS) from 2009 to 2015. Clin Toxicol (Phila). 2017;55(7):645-651. doi:10.1080/15563650.2017.1306070

Zota AR, Aschengrau A, Rudel RA, Brody JG. Self-reported chemicals exposure, beliefs about disease causation, and risk of breast cancer in the Cape Cod Breast Cancer and Environment Study: a case-control study. Environ Health. 2010;9:40. Published 2010 Jul 20. doi:10.1186/1476-069X-9-40

Slaughter RJ, Watts M, Vale JA, Grieve JR, Schep LJ. The clinical toxicology of sodium hypochlorite. Clin Toxicol (Phila). 2019;57(5):303-311. doi:10.1080/15563650.2018.1543889

Papakonstantinou E, Roth M, Karakiulakis G. Hyaluronic acid: A key molecule in skin aging. Dermatoendocrinol. 2012;4(3):253-258. doi:10.4161/derm.21923

Simpson RM, Meran S, Thomas D, et al. Age-related changes in pericellular hyaluronan organization leads to impaired dermal fibroblast to myofibroblast differentiation. Am J Pathol. 2009;175(5):1915-1928. doi:10.2353/ajpath.2009.090045

Preethi KC, Kuttan G, Kuttan R. Anti-inflammatory activity of flower extract of Calendula officinalis Linn. and its possible mechanism of action. Indian J Exp Biol. 2009;47(2):113-120.

Faria RL, Cardoso LM, Akisue G, et al. Antimicrobial activity of Calendula officinalis, Camellia sinensis and chlorhexidine against the adherence of microorganisms to sutures after extraction of unerupted third molars. J Appl Oral Sci. 2011;19(5):476-482. doi:10.1590/s1678-77572011000500007

Carson CF, Hammer KA, Riley TV. Melaleuca alternifolia (Tea Tree) oil: a review of antimicrobial and other medicinal properties. Clin Microbiol Rev. 2006;19(1):50-62. doi:10.1128/CMR.19.1.50-62.2006